Delta/NWA and Flight 253: A Failure to Communicate
Like many people today who are back in the office for the first time since before the holidays, I've been spending the day catching up, including going through my Google Reader. I subscribe to a number of corporate blogs, and as I got to the Delta Air Lines blog, I expected to read something – even a short post – about the attempted bombing on Northwest Airlines Flight 253 as it made its way to Detroit on Christmas Day.
But there was nothing about the incident on the blog, an incident which caused a ripple effect of newly enacted security measures and massive disruptions in international air travel around the world.
I went to the Delta Air Lines website, found the News section of the site and one very short official statement, "Delta Air Lines Issues Statement on Northwest Flight 253." The official statement described a passenger who "caused a disturbance" on the flight and was restrained. The description of events is vague enough to apply to any number of types of potential "disruptive" activities, and wouldn't necessarily lead one to believe that an attempted terrorist act had been committed. While directing "additional questions" to law enforcement, the statement goes into no additional detail about what happened, even though some of those details were already being reported by the media.
So, I checked Delta's Twitter account, to see if additional information or context was being provided there. There's exactly onetweet specifically about the December 25th attempted bombing: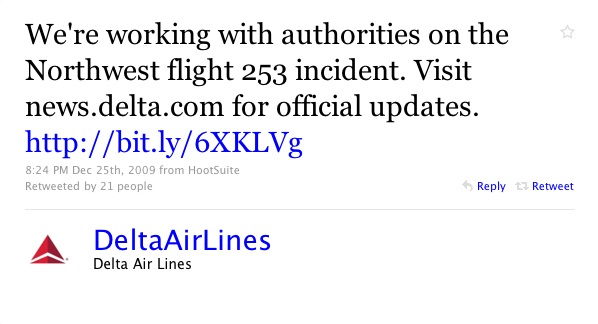 Now, the Delta Twitter account appears to have sat dormant from June 17th till December 22nd of 2009, when traveler outcry over U.S. domestic travel delays due to various winter storms was reaching a fever pitch. But the one tweet about the 25th simply redirects back to Delta's website, where no additional statements about the incident have been provided since the 25th. There have been additional tweets on @DeltaAirLines advising travelers to expect delays due to new TSA regulations, but nothing specifically about the incident on the 25th.
I'd guess that there were at least three factors working against Delta's communication efforts:
The attempted bombing occurred on Christmas Day, one of the very few days of the year when almost no corporate employees are in the office. But in today's age, it's inconceivable that "the world's largest airline," a company responsible daily for hundreds of thousands of people's lives, wouldn't have some kind of chain of communication in place to deal with an event like this, even on Christmas Day.
Delta and Northwest have been in the process of merging in the last year, and just in the last week were given government permission to fully complete the merger. There's some confusion (for an average reader) in the company's statement, with Delta as the company issuing the statement and the flight branded/operated as a Northwest flight. I can imagine that there's still confusion in corporate communication operational role clarity as well. I know, as a frequent Delta/Northwest traveler, there has still been confusion on the ground. Again, I can't imagine that a company of this size and complexity wouldn't have negotiated a crisis communication response process as part of the merger details.
From this and other articles, it appears that there's some behind-the-scenes dissatisfaction between the Delta CEO and the government agencies responsible for airline safety. But "inside baseball" talk isn't what the average member of the public needs or wants to hear in the aftermath of this kind of event.
Also, what I find unfortunate in this communication situation is that Delta had the two social media channels – its blog and its Twitter account – already established, had an audience eager for more information, and provided only the scant minimum of content or context. What I find particularly disconcerting about the blog is that there have been two posts since the 25th about totally innocuous content, which in the wake of the serious events of the 25th read as even more out of touch. (I imagine they were probably scheduled to post in advance, but again, when crisis happens sometimes the response calls for suspending business-as-usual activities.)
Other companies have used their social media channels in the wake of attempted terrorist attacks despite restrictions on detailed disclosure due to ongoing legal investigation. For example, look at the heartfelt message on the Marriott blog after one of its hotels in Pakistan was the target of an attempted attack in 2007, which lead to the death of a hotel employee and severe injury of another.
Thankfully, Northwest Flight 253 landed safely and disaster was averted, due in large part to the response of the flight crew and other passengers on the flight. But what a lost communication opportunity for the company to provide context, as well as show some humanity and thankfulness, for what in the end was as good an ending as could have been expected.
*Note: I'm a very frequent Delta/Northwest flier, but other than being a long-time customer have no professional ties to the company.
https://www.logosconsulting.net/wp-content/uploads/2020/05/Logos-Consulting-Group-practices-social-distancing-with-personal-touch-covid19-maidazeng.jpg
960
1054
Laurel Hart
https://www.logosconsulting.net/wp-content/uploads/2021/05/HQ-Lambda-Consulting-Lockup-1030x562.png
Laurel Hart
2010-01-04 16:47:22
2021-10-18 14:14:39
Delta/NWA and Flight 253: A Failure to Communicate